Happy Birthday Monkey Mind! Hope you have a great year ahead!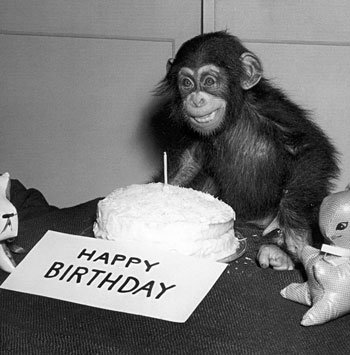 with metta
Chris
---The trouble is that you think you have time---
---Worry is the Interest, paid in advance, on a debt you may never owe---
---It's not what happens to you in life that is important ~ it's what you do with it ---
---
Site Admin
Posts: 19079
Joined: Tue Dec 30, 2008 9:52 pm
Location: Melbourne, Australia
Contact:
Greetings,
I don't know what's better... the fact it's monkey mind's birthday, or that awesome picture of the monkey and the cake!
Have a chipper one MM... may it be as fun as the one that monkey had!
Metta,
Retro.
"Do not force others, including children, by any means whatsoever, to adopt your views, whether by authority, threat, money, propaganda, or even education."
- Ven. Thich Nhat Hanh
"The uprooting of identity is seen by the noble ones as pleasurable; but this contradicts what the whole world sees."
(Snp 3.12)
"One discerns wrong view as wrong view, and right view as right view. This is one's right view."
(MN 117)
---
happy birthday, Monkey Mind!
"No lists of things to be done. The day providential to itself. The hour. There is no later. This is later. All things of grace and beauty such that one holds them to one's heart have a common provenance in pain. Their birth in grief and ashes."
- Cormac McCarthy, The Road
Learn this from the waters:
in mountain clefts and chasms,
loud gush the streamlets,
but great rivers flow silently.
- Sutta Nipata 3.725
Compassionate Hands Foundation
(Buddhist aid in Myanmar) •
Buddhist Global Relief
•
UNHCR
e:
ben.dhammawheel@gmail.com
..
---
---
Posts: 6588
Joined: Tue Dec 30, 2008 10:31 pm
Location: Ellan Vannin
Contact:
Blog,
Suttas,
Aj Chah,
Facebook.
He who knows only his own side of the case knows little of that. His reasons may be good, and no one may have been able to refute them.
But if he is equally unable to refute the reasons on the opposite side, if he does not so much as know what they are, he has no ground for preferring either opinion …
...
He must be able to hear them from persons who actually believe them … he must know them in their most plausible and persuasive form.
John Stuart Mill
---
Happy Birthday!!!
To study is to know the texts,
To practice is to know your defilements,
To attain the goal is to know and let go.

- Ajahn Lee Dhammadharo

With mindfulness immersed in the body
well established, restrained
with regard to the six media of contact,
always centered, the monk
can know Unbinding for himself.

- Ud 3.5

"Dont send the mind outside. Watch the mind right at the mind."

- Ajahn Dune Atulo
---
Posts: 2679
Joined: Sat Jan 03, 2009 2:38 am
Location: Gallifrey
Happy Birthday!
He turns his mind away from those phenomena, and having done so, inclines his mind to the property of deathlessness: 'This is peace, this is exquisite — the resolution of all fabrications; the relinquishment of all acquisitions; the ending of craving; dispassion; cessation; Unbinding.'
(Jhana Sutta - Thanissaro Bhikkhu translation)
---
Posts: 538
Joined: Sat Dec 05, 2009 8:56 pm
Location: Pacific Northwest, USA
cooran wrote:

Happy Birthday Monkey Mind! Hope you have a great year ahead!

with metta
Chris
That is an actual photo from my birthday event. Usually I keep my hair a little more shaved, but let it all go yesterday.
I watched this movie "Cloud Atlas". It is supposed to be about karma and rebirth. There were some scenes that were truly entertaining, but I'm undecided about whether they captured the essence of karma. There is one line in the film, "Our crimes and our acts of kindness define our future."
Thank you for the well-wishing.
"As I am, so are others;
as others are, so am I."
Having thus identified self and others,
harm no one nor have them harmed.

Sutta Nipāta 3.710
---
Happy Birthday - better late than no wishes
---
Users browsing this forum: No registered users and 15 guests