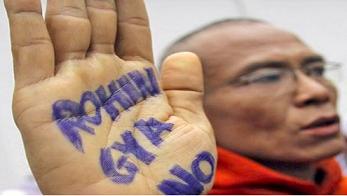 After seeing images such as the one above, I am forced to ask the uncomfortable question - to what extent are Burmese Buddhists, and the Buddhist establishment in Burma, complicit with or even encouraging the
on-going atrocities
against the minority Rohingya people?
Human Rights Watch has a
report on the conflict
. Rather than trying to ease tensions between the two communities, it appears that monks have been fanning the flames of hatred:
In the aftermath, local Arakan leaders and members of the Arakan community in Sittwe have called for the forced displacement of the Muslim community from the city, while local Buddhist monks have initiated a campaign of exclusion, calling on the local Buddhist population to neither befriend nor do business with Muslims.
How do Theravada Buddhists in Burma square their behavior with the Dhamma? Why have Theravada leaders in Burma, and around the world, been comparatively silent about this? Has anyone read or heard of any statements issued by Buddhist leaders - in particular, Theravada Buddhists - condemning the violence?