Street food in third world countries is probably not the healthiest or cleanest, but definitely the tastiest!

Interesting Indian omelette:


quidquid Latine dictum sit altum videtur
(Anything in Latin sounds profound.)
---
Posts: 1614
Joined: Mon Apr 07, 2014 4:06 pm
Location: Loch Lomond, via the High AND Low road....
Some Friends of mine visited Thailand, and spent the entire two weeks enjoying 'street-food' along with the locals. They managed to eat at a different place every day, and suffered absolutely no ill-effects at all.

On their final evening, they decided to eat "in luxury" and took a meal at the hotel in which they were staying.
A day later, literally a few hours after getting home, they both succumbed to mild food poisoning.
as one of my friends works in a lab at a hospital she took "samples" (avoiding lavatorial details) with her to work a few days later and tested them for bacteria.

Their case of food poisoning was traced back to their hotel meal.
So much for conforming....

On the other hand, another 'friend' (more acquaintance) of mine sent a card back from Bali-

"Weather lovely, but food looks revolting, am living on McDonalds!"

there's just no pleasing some people!
You will not be punished
FOR
your 'emotions'; you will be punished
BY
your 'emotions'.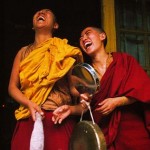 Pay attention, simplify, and (Meditation instruction in a nutshell) "Mind - the Gap."
'Absit invidia verbo'

-

may ill-will be absent from the word.
And mindful of that, if I don't respond,
this
may be why....
---
Hmm, interesting.
Thailand street food is great and cheap too!
I'm pretty sure one could live off street food for a very long time. Unless you prefer to live out of McDonalds... for whatever reason.
I remember when I stopped in Singapore I had this humongous breakfast at a street hawker: stir-fried rice noodles with two half-fried eggs on top for $2. That's right, two Singapore Dollars (about USD 1.60). And it was
very
filling, even for my huge appetite. A friend who lives there tells me that it's actually less economical to cook your own food over there.
quidquid Latine dictum sit altum videtur
(Anything in Latin sounds profound.)
---
Users browsing this forum: No registered users and 2 guests