My home shrine has, for six or seven months, resided in a small bookcase in our living room (next to my desk). Anyone looking back can see it on page 4 of this thread. Anyway, I've always felt that it's location was somewhat inadequate, but I've been very cautious to not "shock" my wife with anything she might consider "crazy." I guess you could say I've been breaking her into the idea of my being Buddhist slowly and deliberately so as to not cause too much friction in the home.
Keeping the story to a minimum (to keep the thread on topic), she has been fairly supportive of me, or at least not restrictive / prohibitive. She sees my spirituality as important, and maybe even valid (she hasn't said that specifically, but through her actions thus far it can be inferred). As such, I've decided to claim some space in our classroom for my quiet space and established my shrine there.
This entailed a new table and a lot of cleaning, but offers me a place to read, and possibly meditate if I so choose, something into which I'm only barely starting to venture. I figured I could share this change with friends here, maybe as a testament to the fact that multi-faith families can be made to work if both parties are fair and willing to work together.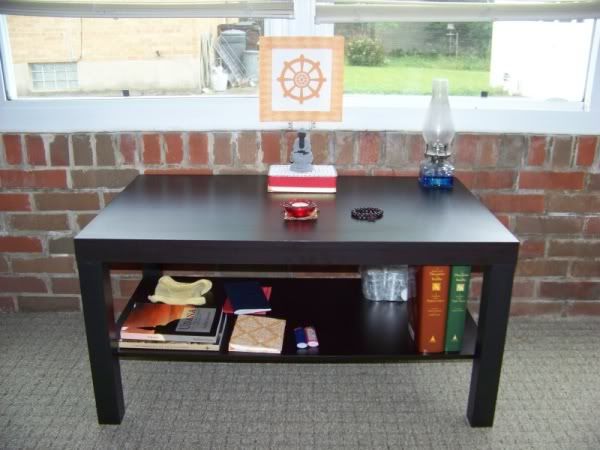 I carried over most of the items from the original shrine area but may make further changes eventually... I don't have a cushion, for instance, so I'm borrowing one from our couch when I need one. Fact is, ultimately, that I'm limited to a budget of about $15 per week and have usually been inclined to buy books before anything else. As I'm in the middle of the 1,400 page Majjhima Nikaya, I don't imagine needing any new books for a few... months at least.