Dear David/Members,
I wonder why some Bodhi Tree pictures were gone...so I would like to post some:
Bodhi Tree
----------------
Sal(Sala) Tree
Religious significance
Queen Māyā giving birth to the Buddha
In Hindu tradition, the sal tree is said to be favoured by Vishnu.[3] Its name shala, shaal or sal, comes from Sanskrit (शाल, śāla, literally "house"), a name that suggests it for housing timber; other names in the Sanskrit language are ashvakarna, chiraparna and sarja, among many others.[4]
The sal tree is often confused with the ashoka tree (Saraca indica) in the ancient literature of the Indian Subcontinent.
In Buddhist tradition, it is said that Queen Māyā of Sakya gave birth to Gautama Buddha under a sal tree or an asoka tree in a garden in Lumbini, in south Nepal, while grasping its branch. When this event took place, Queen Māyā was en route to birth him in his grandfather's kingdom. It is also said that four pairs of sal trees growing around the Buddha's bed suddenly turned white when he died.
There is a standard decorative element of Hindu Indian sculpture which originated in a yakshi grasping the branch of a flowering tree while setting her foot against its roots.[5] This decorative sculptural element was integrated into Indian temple architecture as salabhanjika or "sal tree maiden", although it is not clear either whether it is a sal tree or an asoka tree.[6]
In Kathmandu Valley of Nepal, one can find typical Nepali pagoda temple architectures with very rich wooden carvings, and most of the temples, such as Nyatapol Temple (Nyatapola), are made of bricks and sal tree wood.
------
Sal tree resin, ṛla in Sanskrit, is used as an astringent in Ayurvedic medicine.[7] It is also burned as incense in Hindu ceremonies, and sal seeds and fruit are a source of lamp oil and vegetable fat.
Sal Tree( or Sala Tree, shala Tree)
Sala tree's flower.. beautiful, sweet scented flower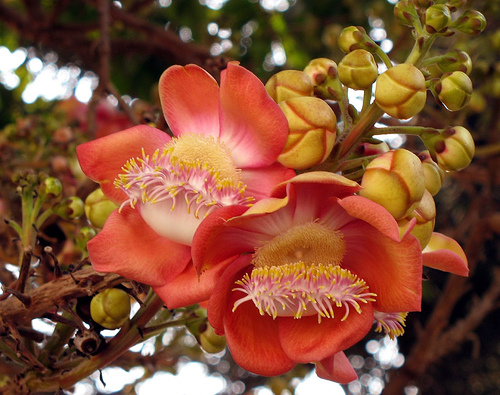 Sala fruits
--------------
Asoka Tree(or Ashoka Tree....sorrowless tree)..In Hinduism, Saraca Indica is a Sacred Tree
In Hinduism the ashoka is considered a sacred tree. Not counting a multitude of local traditions connected to it, the ashoka tree is worshipped in Chaitra, the first month of the Hindu Calendar. It is also associated with Kamadeva, the Hindu god of Love, who included an Ashoka blossom among the five flowers in his quiver. Hence, the ashoka tree is often mentioned in classical Indian religious and amorous poetry, having at least 16 different names in Sanskrit referring to the tree or its flowers.
Banyan Tree..Indian national tree
**********
yawares/tidathep