from the book
"
Teaching Dhamma by Pictures
"
Explanation of a Siamese Traditional Buddhist Manuscript
by Ven. Buddhadasa Bhikkhu

Published by
Sathirakoses-Nagaparadi Foundation & Ministry of Education, Thailand
On the occassion of the Centenary Celebration of the Bith of the Ven. Buddhadasa Bhikku
(27 May 1906 - 27 May 2006)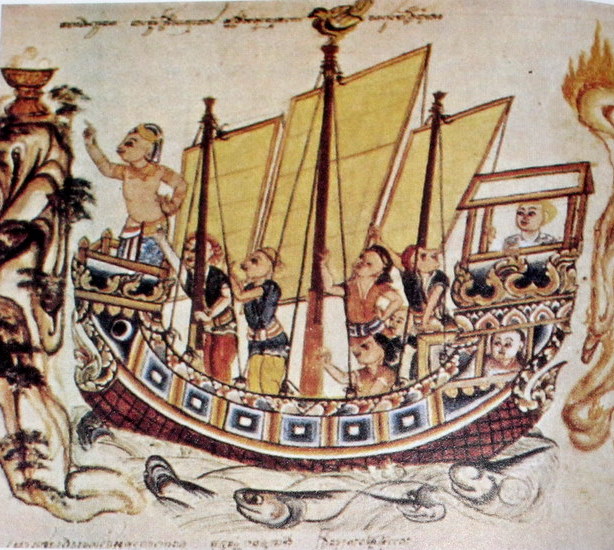 Teaching Dhamma by Pictures
The use of pictures as a method for explaining the
Dhamma
(Buddhist Teachings) has been popular in Siam since the Sukhothai or early Ayuthia period. The manner of representation has undergone, of course, various changes throught the years so that the pictures illustrate period art as well as Dhamma. Though there is still disagreement in fixing the date of some illustrations, the examples presented here are of the Bangkok period (about 100 years old). Three illustrated manuscripts of this period on
Dhamma
have been found in the town of Chaiya (Surathani Province) and the volume presented here is the largest of them. Upon examination, it was found that all three manuscripts have the same theme for their illustrations.
The illustrated manuscript reproduced here was, in the original, a traditional Thai manuscript called Samut Khoi which is a long roll of paper folded concertian-wise into leaves and then written on both sides. In this form, the illustration was presented first, followed by a few lines of explanation on a particular aspect of
Dhamma
such as Meditation and so forth. Cambodian script was used in those days for all religious work thought the language is Siamese.
The pigments used were produced locally, most of them derived from native trees. The sequence of the illustrations has been rearranged here, for a more lucid presentation.
Note: The book was reprinted for free distribution from "The Corporate Body of the Buddha Education Foundation" and is under http://www.budaedu.org avaliable.

-------------
A german version is avaliable on dhamma-vinaya.de - if not available on this forum please try here: santinanda.de
-------------
1. THE SIX ELEMENTS
This is an illustration of the six Elements. Four human figures paying respect to the king represent the Four Great Elements: Earth, Water, Fire and Air. (Or of Solidity, Cohesion, Temperature and Mobility, which are the marks of all matter.) The fifth element, Space, surrounds the others. The king is a representation of the sixth element,
Vinnanadhatu
, the Consciousness-element. The king (or the mind) is shown as superior to and in control of the other four (Earth, Water, Fire, Air) elements which represent corporeality. Space should be regarded as beyond, and distinct from, the mind (
nama
) and body (
rupa
) elements, althought some schools of thought regard space as an aspect of mind. According to this latter approach, only two elements are present - mind and body. However, there are also the three elements of
rupadhatu, arupadhatu,
and
nirodhadhatu
.
Rupadhatu
is the element that has form and is composed of corporeal matter.
Arupadhatu
is formless and abstract, while
nirodhadhatu
is the cessation of
nama
(mind) and
rupa
(body) and is experienced as voidness. The space element should be regarded as
nirodhadhatu
, and not as
rupa
or
nama
. (The last three
dhatus
or elements, of form, formlessness and cessation, are not abstract ideas but relate to certain experiences won through the practice of calming, concentrating and enriching the mind with wisdom. In the same way, the first four great elements may also be experienced trough mindfulness of the body.)
.