Adventures of Fallacy Man:
http://existentialcomics.com/comic/9
Mike
---
Excellent stuff. A good insight into the similarities between a common internet pose and the morality of traditional "superheroes". (i.e. "I'm right, so I'm going to humiliate you."). Should be part of the Terms of Service for most internet forums.



This one excepted, of course.
---
This one's more my style, actually
- and I recognise it in some other folk here, too.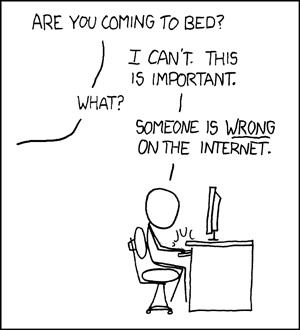 Kim
---
---
Fallacy man is committing the fallacy of
Judgmental language
(subset of a red herring).
But seriously, following logic and calling out cases of poor arguments and use of faulty logic (as long as it is not too excessive) is better than Troll man; you know the type, who just engage in arguments for the sake of arguing and like to be disruptive. They usually never agree with anyone, from any side of any issue.
---
Sounds like Name Calling to me!
---
Site Admin
Posts: 19062
Joined: Tue Dec 30, 2008 9:52 pm
Location: Melbourne, Australia
Contact:
Greetings,
If one is using "arguments", it is important that they are not fallacious.
Source:
http://en.wikipedia.org/wiki/Argument
In logic and philosophy, an argument is an attempt to persuade someone of something, by giving reasons for accepting a particular conclusion as evident. The general structure of an argument in a natural language is that of premises (typically in the form of propositions, statements or sentences) in support of a claim: the conclusion. The structure of some arguments can also be set out in a formal language, and formally-defined "arguments" can be made independently of natural language arguments, as in math, logic and computer science.

In a typical deductive argument, the premises are meant to provide a guarantee of the truth of the conclusion, while in an inductive argument, they are thought to provide reasons supporting the conclusion's probable truth. The standards for evaluating non-deductive arguments may rest on different or additional criteria than truth, for example, the persuasiveness of so-called "indispensability claims" in transcendental arguments, the quality of hypotheses in retroduction, or even the disclosure of new possibilities for thinking and acting.

The standards and criteria used in evaluating arguments and their forms of reasoning are studied in logic. Ways of formulating arguments effectively are studied in rhetoric (see also: argumentation theory). An argument in a formal language shows the logical form of the symbolically-represented or natural language arguments obtained by its interpretations.
However, not every statement made is an "argument", so there is no reason for every statement to be held up to the criteria applicable to an argument... to insist otherwise is the "fallacy fallacy".
Metta,
Retro.
"Do not force others, including children, by any means whatsoever, to adopt your views, whether by authority, threat, money, propaganda, or even education."
- Ven. Thich Nhat Hanh
"The uprooting of identity is seen by the noble ones as pleasurable; but this contradicts what the whole world sees."
(Snp 3.12)
"One discerns wrong view as wrong view, and right view as right view. This is one's right view."
(MN 117)
---
This may come in handy sometimes:
Kim
---
Users browsing this forum: Will and 48 guests