---
Beautiful! Is it a one-off, or part of a series?
---
Posts: 900
Joined: Thu Feb 23, 2012 4:24 pm
Location: America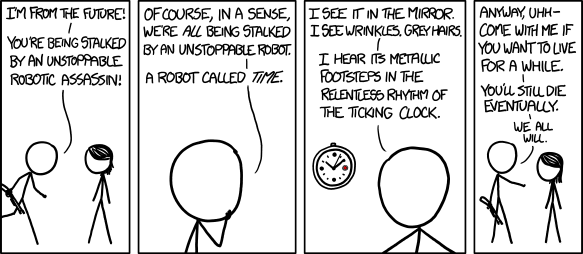 Actually, today's is a good lesson in mindfulness of death
Gain and loss, status and disgrace,
censure and praise, pleasure and pain:
these conditions among human beings are inconstant,
impermanent, subject to change.
Knowing this, the wise person, mindful,
ponders these changing conditions.
Desirable things don't charm the mind,
undesirable ones bring no resistance.
His welcoming and rebelling are scattered,
gone to their end,
do not exist.
- Lokavipatti Sutta
Stuff I write about things.
---
Sam Vara wrote:Beautiful! Is it a one-off, or part of a series?
xkcd is a web-comic which appears every Monday, Wednesday and Friday. I think of it as "Far Side for maths/computer geeks", and it's the only web-comic I follow. If you go to
http://xkcd.com/
and hit the "Random" button a few times and you will see whether you want to do the same.
Kim
---
Posts: 2215
Joined: Tue Feb 03, 2009 6:32 pm
Location: NYC
Contact:
---
Users browsing this forum: No registered users and 60 guests